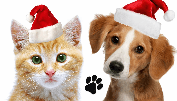 The holiday season is not yet ending and there are supposed to be many events you have to enjoy while the holiday lasts. It will be fun if you have your whole family together in a holiday meal, but of course you should not forget your pet hoping to have the greatest holiday gift to receive. Pets have feelings too, and they can feel it if you care for them or not. Mostly people who love pets are caring too much for them. They give them what they need, including foods, bring them to plantation animal hospital and even buy them clothes and everything. This celebration is all about sharing and giving so why not snap or slice a portion of something for pets?
Gifts for Other Pets
Many animals all over the world are missing, getting hurt, and getting killed and hungry every day. It must be a good luck to those creatures who are in the hands of a good pet owner, but for those who has misfortunes, this leisure season will be the loneliest part of their lives for the whole year. The weather outside, the pain in their legs, the scars on their skins, and the growling sound on their stomach can be the most bitter feeling they can feel this Holiday.
There are many different organizations that need donations for the aid of the pets under their care. You can give pets the gift, for this winter vacation by sharing donations like money for maintenance, foods, cages, medical supplies and other needs of animal hospital. If you share something for those unfortunate animals, you can contribute joy in their hearts.
Secure Safety
Security is a way of showing care so you must secure the safety of your pet during celebrations. Many pets are missing nowadays, and there are also solutions available for every animal owner. In some cases, owners are planting microchip on their pets for identification in order to find them in the event of accidental separation. This leisure season is the time for family gatherings and meal sharing. In giving foods for your pet, you need to be careful because there are some of its ingredients that can harm them.
Treat Your Pet
How will you treat your pet? Let them experience something they can't forget. Animals have good memories so they can really put something into their minds. You can let them enjoy a party the way humans do. Let them eat their favorite foods and play the game they wanted to do. They will surely have the best
Holiday experience they can have.
"Pets are like humans" as quoted by many. It is definitely true, so a person must treat them the way they treat humans. Some people are making their pets feel that they are a part of the celebration and as a portion of their lives, they use to live with their favorite animal, take care of them, and treat them special. Your furry friend can enjoy this vacation the way people do. You can do something to make them happy. If you are willing to give and share, your pet as well as other's will have a merry holiday season.